User:Bpcarty/Printing Powerpoint to BLUEWHALE
Jump to navigation
Jump to search
Printing to BLUEWHALE
Location and Access
BLUEWHALE is located in the Monteith Engineering Research Center (MRC), just outside room 415. Currently the printer is restricted to faculty and staff. If you need access or assistance with printing, or if the printer is out of paper or ink, email us at ecehelp@ncsu.edu.
Located near BLUEWHALE is a computer station that you may use to print to the printer. We encourage users to use this station when printing so that you can view your document as it prints and cancel it should there be any errors, saving paper and ink.
Printing a Document
The two best options for printing to BLUEWHALE are through Microsoft PowerPoint or Adobe Reader/Acrobat. At this time, these are the only programs that have been used to print. If you need to print through a different program, please email us for assistance. Also note that the directions in this document are for MS PowerPoint 2003 and Adobe Reader/Acrobat 7. If you are having difficulties with previous or future versions, again, please let us know.
The first part to printing to BLUEWHALE is telling the printer what size poster you wish to print, and in what orientation. These steps are the same for both PowerPoint and Reader/Acrobat.
IMPORTANT NOTES
A roll of paper on BLUEWHALE is 36 in. wide. This means that AT LEAST ONE of the dimensions of your poster must be 36 in. or less.
Create your poster in the size that you intend to print it. PowerPoint allows you to set a page size under File -> Page Setup and any image program allows you to set the size of the picture/document you are creating before you start on it.
Posters can be printed in Portrait or Landscape.
Print in "Normal" quality only. There is little to no discernible difference between "Normal" and "Best" qualities.
We strongly encourage you to use a white background for your poster. If you absolutely must have a colored background, use a single color that is not heavy or dark. Nearly all programs allow you to reduce the intensity or percentage of a color before you use it. Do NOT use patterns or your poster will print very slowly.
1) Setting Paper Size
Open the Print screen. Choose BLUEWHALE as your printer, and click on "Properties".
See Figure 1 below. Click on "Custom Paper Size" and set it to the dimensions of your poster. The first box is the width, the second box is the height. Remember that at least one of these dimensions must be 36 in. or less.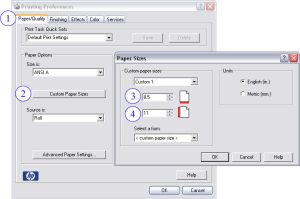 2) Setting Poster Orientation
If this is a landscape poster, change Orientation to Landscape and check the "rotate by 90 degrees" box (orientation option should be under the "finishing" tab)
Click OK to go back to the Print screen.
Check the "Scale to fit paper" box.
If you're trying to print a PDF instead, try this instead. It's slightly different.