Difference between revisions of "WolfTech Information Technology"
Jump to navigation
Jump to search
m

m

Line 110:
Line 110:
 

PRINT ("</a>");

 

PRINT ("</a>");

 

</php>

 

</php>

−

 
−

<linkedimage>

 
−

wikipage=Main_Page

 
−

tooltip=Main Page

 
−

img_src=Image:Spam-drowning.png

 
−

img_width=10%

 
−

img_height=10px

 
−

img_alt=Sampletext

 
−

</linkedimage>

 
---
Revision as of 10:18, 3 January 2007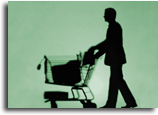 Welcome to the one-stop computing resource site for Electrical and Computer Engineering and all other NC State users of WolfTech computing or web resources. With this site, you only have to remember one address to find anything and everything about using your computer at NC State. We're continuing to add vast amounts of information to this website, and should you find anything missing, we encourage you to email us a request for more information.
Before getting started, be sure you have read through the NC State and ECE Information Technology Policies.
---
---

<php> require('magpierss/rss_fetch.inc');
require('magpierss/rss_utils.inc');
$url="http://www.wolftech.ncsu.edu/news/?feed=rss2"; $num_items = 5;
$rss = fetch_rss($url); $rss->items = array_slice($rss->items, 0, $num_items);
echo "<a href=\"http://www.wolftech.ncsu.edu/news/\">", $rss->channel['title'], "</a>
"; foreach ($rss->items as $item ) { $title = $item[title]; $url = $item[link]; $published = strtotime($item[pubdate]); echo date("M dS H:i", $published); echo " - ";
echo "<a href=$url>$title</a>
"; } $url="http://sysnews.ncsu.edu/news/index.rdf"; $num_items = 5; $rss = fetch_rss($url); $rss->items = array_slice($rss->items, 0, $num_items); echo "<a href=\"http://sysnews.ncsu.edu/\">", $rss->channel['title'], "</a>
"; foreach ($rss->items as $item ) { $title = $item[title]; $url = $item[link]; $published = parse_w3cdtf($item['dc']['date']); echo date("M dS H:i", $published); echo " - "; echo "<a href=$url>$title</a>
"; } </php> <php> PRINT ("<a href=\"http://sysnews.ncsu.edu/tools-php/spam-filter-setup.php\">"); PRINT ("<img src=\"http://www.wolftech.ncsu.edu/support/images/Spam-drowning.png\">"); PRINT ("</a>"); </php>