Use FastX 2
Jump to navigation
Jump to search
Starnet FastX 2 is an alternative to the X-win32 software and is WolfTech's current recommendation for remote connections to ECE department Linux servers.
NOTE: Images on this page were taken from the Windows version of the software. The appearance may differ on other OSs, but functionality should remain the same.
Download and Install
If you are on an ECE department Windows or Apple machine, you can find an installer for FastX2 in the Software Center or SelfService applications on those OSs.
For Linux machines or personal machines, download the installers from the links below:
Download and Install v3 clients
We're in the process of slowly upgrading our systems from FastX v2 to v3 -- if you're specifically directed to use the v3 client, you can download them here:
Please note that you cannot use the v3 client with a v2 server (and vice versa) so only install these if instructed.
Connect to a Server
Contact ecehelp@ncsu.edu if you do not know what server to use.
See the image below for how to create a connection to a server.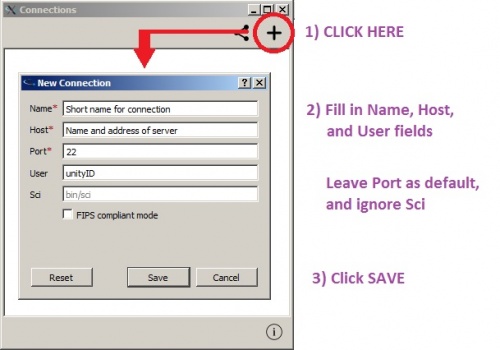 After clicking SAVE, the connection will launch. Enter your Unity password when prompted to finish the connection.
Double-click an existing connection to launch it.
Open a xterm session
NOTE: Wolftech recommends only using xterm sessions. You may use the GNOME or KDE sessions if you wish, but be aware you may experience lag or other issues, especially if you are connecting from off-campus.
See the image below for how to open an xterm session.

After the xterm launches, use as normal.
When finished, use 'exit' to close the xterm.
Close the connection window to end your connection to the server.